Warning: include(../../../useronline.php): failed to open stream: No such file or directory in /home/dhammathai/domains/dhammathai.org/public_html/e/news/m01/bnews09_1.php on line 232 Warning: include(../../../useronline.php): failed to open stream: No such file or directory in /home/dhammathai/domains/dhammathai.org/public_html/e/news/m01/bnews09_1.php on line 232 Warning: include(): Failed opening '../../../useronline.php' for inclusion (include_path='.:/usr/local/lib/php') in /home/dhammathai/domains/dhammathai.org/public_html/e/news/m01/bnews09_1.php on line 232
News in pictures
The Dhamma Times, 9 January 2005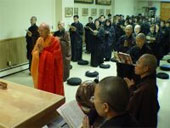 Dharma Drum/Dhamma Times
Venerable Master Sheng Yen led Dharma Drum Mountain's members in praying for the victims of tidal waves and also taking chance to raise funds for relief efforts.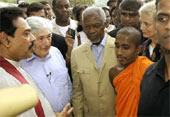 REUTERS/Yves Herman
United Nations Secretary General Kofi Annan is accompanied by Sri Lankan Prime Minister Mahinda Rajapksha during a visit to a Buddhist temple, that was destroyed by a tsunami in Hambantota, eastern Sri Lanka.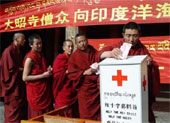 AP Photo/Xinhua, Peng Kai
Buddhist monks donate money for the tsunami-hit countries during a donation activity at the Jokhang Temple in Lhasa, capital of southwest China's Tibet Autonomous Region.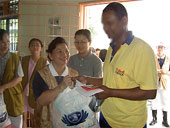 Tzu Chi/Dhamma Times
Volunteers from Tzu Chi Buddhist Relief Foundation Malaysia Chapter visit victims of the disaster and distribute emergency funds and food supplies.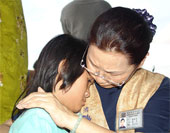 Tzu Chi/Dhamma Times
Volunteers of Tzu Chi Buddhist Foundation Malaysia Chapter visited major hospitals to care for families and victims of the disaster.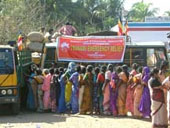 BLIA/Dhamma Times
Buddha's Light International Association, India Chapter distributing relief products to survivors.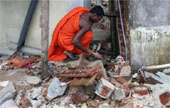 AP Photo/Ed Wray
A Sri Lankan buddhist monk collects bricks from the wreck of his templein Weligama on Sri Lanka's Southeast coast.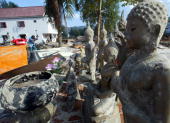 PORNCHAI KITTIWONGSAKUL/ AFP/Getty Images
Thai villager works next to the recovered Buddhist statues that lost in tsunami, in Phuket province, southern Thailand, two weeks after tsunami disaster.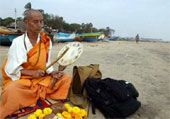 REUTERS/Amit Dave
Eishitany, 63, a Buddhist monk, conducts a two-day fast to pay homage to the tsunami victims at Seruthur, 380 km (238 miles) south of the Indian city of Madras.
---