Warning: include(../../../useronline.php): failed to open stream: No such file or directory in /home/dhammathai/domains/dhammathai.org/public_html/e/news/m01/bnews02_1.php on line 232 Warning: include(../../../useronline.php): failed to open stream: No such file or directory in /home/dhammathai/domains/dhammathai.org/public_html/e/news/m01/bnews02_1.php on line 232 Warning: include(): Failed opening '../../../useronline.php' for inclusion (include_path='.:/usr/local/lib/php') in /home/dhammathai/domains/dhammathai.org/public_html/e/news/m01/bnews02_1.php on line 232
News in pictures
The Dhamma Times, 2 January 2005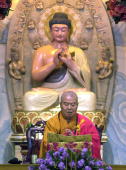 PATRICK LIN/AFP/ Getty Images

Master Hsing Yun of the Taiwanese Buddhist organization Fo Guang Shan prays against the backdrop of a large Buddha statue for victims of Asian tidal wave disasters in a memorial service attended by some 500 followers in Taipei.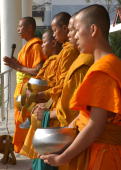 ROMEO GACAD/AFP/Getty Images

A group of monks pray outside the government Patong hospital in Phuket during a religious service for blessings and cleansing. The hospital is one of the medical center where casualties from the tsunami disaster were brought for treatment and also served as morgue for the hundreds of bodies where relatives claimed their dead.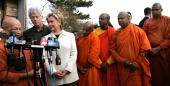 Stephen Chernin/Getty Images

Former US President Bill Clinton, US Senator Hillary Rodham Clinton and Buddhist monks listen as Venerable Pandit Piyatissa speak during a visit to the New York Buddhist Vihara December 31, 2004 in the Queens borough of New York City.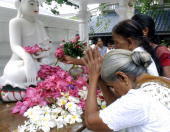 SENA VIDANAGAMA/AFP/ Getty Images

Sri Lankan women offer prayers before an image of Lord Buddha at the Gangarama Temple in Colombo.
---