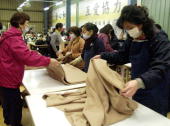 Taipei - Members of the Taiwan Buddhist Tzu Chi Foundation around the world starts a campaign to raise funds for earthquake and tsunami victims in South Asia on 1 January. The campaign in Taiwan will last three months until 31 March.
After Master Cheng Yen, founder of Tzu Chi Foundation, made an open appeal on Dec. 28 for donations of love to South Asia, various Tzu Chi groups and the public have responded enthusiastically.
Employees of the Taichung-based Vitalon Food Co. donated half-month salaries, totaling NT$5.4 million (US$163,000) to Tzu Chi on 28 December in response to the appeal.
Several residents in the eastern city of Hualien visited Buddhist Tzu Chi Medical Center in the past two days to make donations, as well as some patients. Physicians and nurses supported the campaign by donating valuable articles for charity sale at a corner of the hospital's lobby.
A three-day charity sale was held at the Jing Si Hall from Dec. 30 for staff members of Tzu Chi's organizations to make contributions.
Many individual and group visitors also made donations when they visited Jing Si Abode. A middle-aged lady donated NT$200,000 (US$6,000) on 30 December.
Tzu Chi's educational institutions, including Tzu Chi University, Tzu Chi College of Technology, Tzu Chi Junior High School, and Tzu Chi Elementary School, decided to donate one-day's incomes.
Over 200 Tzu Chi collegiate members from 12 countries, who are attending a leadership camp at Tzu Chi Headquarters at the Jing Si Abode, have donated their pocket money totaling US$1,500.
Master Cheng Yen said that the donations will not only help relieve the suffering of the victims, but also inspire the people's kindness, adding that as all people live under the same sky and stand on the same land, "When disaster strikes on region, everyone everywhere ought to help."
It is estimated that more than half a million Tzu Chi members around the world will take to the streets to solicit thoughts and donations of love in the coming weeks in Taiwan, the United States, Malaysia and other countries where there are Tzu Chi offices.
This is the third time that Tzu Chi, a humanitarian institution established in 1966, has launched a large-scale fundraising campaign for international relief effort. In 1998, Tzu Chi raised funds to aid hurricane victims in Central and South America. In 1999, Tzu Chi solicited donations to help victims of the 17 August earthquake in Turkey.
UPDATE ON TZU CHI RELIEF ACTIVITIES
Volunteers located in Jakarta transported 12 tons of daily necessities to the hard-stricken Aceh Province on 28 December, while those in Malaysia provided emergency aid and medical care for tsunami victims in Penang and Kedah.
A relief team headed by Sugianto Kusuma, an executive of Tzu Chi's Indonesia Chapter, left Jakarta's Halim Airport at 04:00 on 28 December for Aceh via Medan aboard an F-28 aircraft. Three physicians affiliated with the Tzu Chi International Medical Association went there together.
Tzu Chi's relief goods airlifted to Aceh included 25 boxes of instant noodles, 500 bags of washroom articles such as towels, toothbrushes, and toothpaste, 248 bottles of ointment, 185 sheets, 20,000 small boxes of pain-relieving pills, 256 bottles of salve for skin disease, as well as raincoats and boots.
Additional relief goods ready for shipment to Aceh from Jakarta include 50 boxes of instant noodles, 19 bags of sheets and 40 bags of rice.
In Malaysia, Tzu Chi volunteers divided into seven teams to provide assistance and care for the affected victims. In the first three days after the tidal waves struck the area, the volunteers had provided emergency cash worth US$48,200 to 1,023 families, and distributed US$21,400 worth of relief materials (including daily necessities, mats, bean powder, and instant noodles) to 1,023 families. They had also provided hot meals for 2,270 people.
Seven medical personnel belonging to the Tzu Chi International Medical Association gave medical care and consultations to 128 patients in Kedah.
In Thailand, nine volunteers left for Phuket Island from Bangkok on 26 December to assess what kind of assistance Tzu Chi could offer. They have decided to provide 2,000 body bags and 1,000 surgical gloves.
Meanwhile, a 36-member Tzu Chi relief team consisting of medical personnel and volunteers left Taipei for Colombo, Sri Lanka, via Singapore on the afternoon of 29 December. They brought with them two tons of medicines and medical instruments.
Master Cheng Yen, founder of the Tzu Chi Foundation, received members of the mission before their departure, encouraging them to display the spirit of compassion to help relieve the suffering of the victims and to assess the situation in preparation for subsequent assistance efforts.
The mission, headed by Buddhist Tzu Chi Medical Center Vice President Wang Li-shinn, will focus their efforts in the southeastern city of Hambantota. [DHAMMA TIMES]
TZU CHI CONTACTS WORLDWIDE
Taiwan Buddhist Compassion Relief Tzu Chi Foundation
21, Kanglo Village, Shinchen,
Hualien County 971
Taiwan, R.O.C.
Tel: 886-3-826-6779 Fax: 886-3-826-7776
Buddhist Compassion Relief Tzu Chi Foundation (Malaysia Branch)
52, Tunku Abdul Rahman,
10350 Penang, Malaysia
TEL:60-4-227-1013 FAX:60-4-229-7213
Buddhist Compassion Relief Tzu Chi Foundation (Thailand Branch)
322/207 Soi Yucharon
Rachadapisek 3Rd,
Dindaeng, Bangkok 10320, Thailand
TEL:66-2-642-1888 FAX:66-2-642-1890
Buddhist Compassion Relief Tzu Chi Foundation (Indonesia Branch)
Jl. Mangga Dua Raya,
Gedung ITC Lt. 6
Jakarta 14430, Indonesia
TEL:62-21-601-6332 FAX:62-21-601-6334
Buddhist Compassion Relief Tzu Chi Foundation (Singapore Branch)
25, Trengganu Street #01-01
Singapore 058467
Tel: 65-324-6889 Fax: 65-324-6656
Tzu Chi Foundation, US National Headquarter
1100 S. Valley Center Ave.,
San Dimas, CA 91773-3728
U.S.A.
Tel: 909-447-7799 Fax: 909-447-7948