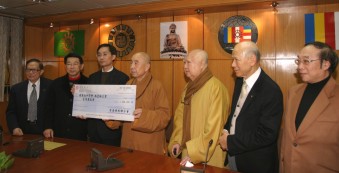 Hongkong - Extending a helping hand to victims and relief efforts of the affected countries, the Hong Kong Buddhist Association donated HKD1 million to the Red Cross.
On 30th December, Venerable Jue Guang handed over the cheque to the Red Cross representative. He also announced that the temples and schools under the Hong Kong Buddhist Association will raise funds for the disaster relief efforts.
Venerable Jue Guang encourage all to donate generously to aid the affected areas and people as to manifest the Buddhist spirit of Great Compassion.
The Hong Kong Buddhist Association is holding a memorial service to dedicate merits to the victims. Other Buddhist temples are also actively contributing towards to relief fund. [DHAMMA TIMES]